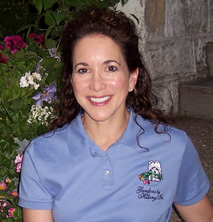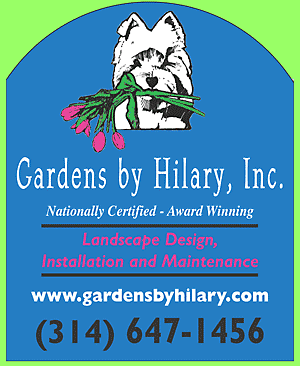 Hilary, of Gardens by Hilary
Services Provided
> Environmentally Friendly Landscape Design by a Nationally Certified Landscape Professional
> Installation of projects designed by Gardens By Hilary which can include: new landscape beds for around the home, specialty gardens including shade gardens, cutting gardens, healing gardens utilizing principles of feng shui, whimsical children's gardens, as well as beautiful one-of-a-kind pots and containers designed personally by Hilary.
> Hardscape — natural and interlocking stone walls, walkways, patios and more. If you dream it, we can build it.
> Bed & Garden Maintenance by our highly trained crew — fertilizing, pruning, weeding, mulching, leaf removal, storm damage clean-up and more. Weekly, monthly, or seasonal maintenance available.
> Landscape Lighting to subtly enhance the beauty of your home.
> Drainage problems assessed and corrected — we have a Civil Engineer on staff to consult with you about your property's standing water problems.
> Irrigation system consultations to improve the operation and performance of your existing system — or a quote to install a new one (including satellite controlled command centers which eliminate the need to manually re-set your system for spring rains or summer drought.)
> Water Features — in-ground ponds, waterfalls and above ground fountains.
Let us put Native Plants to work in your landscape!
Check it out: www.grownative.org
Appointments/Rates
Please call (314.647.1456) or email us to schedule an appointment.
Appointments are available Monday through Friday.
Here's what to expect at your initial design consultation.
Awards & Articles
> Hilary was quoted in a Ladue News article about environmentally
friendly landscaping.
> PLANET featured an article on Gardens by Hilary.
> Hilary was featured in the Jewish Light's "2006 Women in Business"
> "Gardens by Hilary Bloom Year Round" – Jewish Light newspaper article.
> "Ranch redo" – article from stltoday.com featuring Gardens by Hilary.
> "Nuptials in bloom" – article from stltoday.com featuring Hilary's garden-themed wedding.
> Hilary's wedding to Steven Engelhardt made the gossip column!
Licenses & Certification
> Certified Landscape Professional (PLANET)
> City of St. Louis Business License
> City of Shrewsbury Business License
> State Certified WBE
Affiliations
> Professional Landcare Network (PLANET)
> Perennial Plant Association (PPA)
> Missouri Landscape and Nursery Association (MLNA)
> Gateway Professional Horticultural Association (GPHA)
> Hilary is a board member of the Whitney R. Harris World Ecology Center
Gardens By Hilary believes in giving back to the community.
Some of the organizations that we have supported either through donations of services or regular contributions, include . . .
> The Missouri Botanical Garden
> Gateway Greening (Community Gardens)
> Lydia's House (Transitional Housing for Abused Women & Their Children)
> Food Outreach
> The St. Louis Symphony (Showcase House)
> The St. Louis Charity Horse Show